What Does NFS Mean on Instagram? [Latest 2023]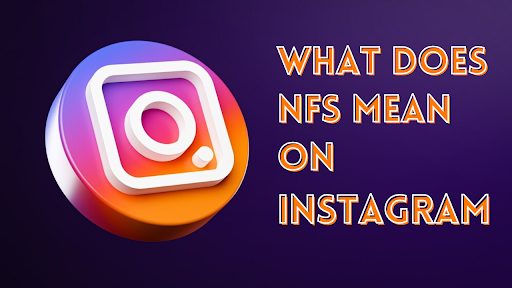 The extensive landscape of Instagram has a lot to explore. An acronym nowadays is literally trending everywhere on Instagram i.e. NFS. You often came across numerous acronyms trending every now and then on social media platforms. But still, the NFS acronym is the most used and preferred one. The list of its meaning goes on.
If you are new to the platform and came across some of it, it's quite obvious that it seems confusing. But, never mind, we are here to help you understand the NFS meaning in Instagram.
What is NFS Instagram?
According to Getassist.net, NFS stands for "Not for Sale" or "Not for Swap". Along with the hashtag, the NFS acronym is used by users worldwide to convey their message or intentions. For instance, #NotForSale is used to convey that a showcased item in a post is not for sale, purchase, or trade.
Via this acronym along with the hashtag, users try to communicate that he/she is not interested in selling or swapping the item. But rather, they are sharing their collection, or promoting their own creative work.
Moreover, a lot of additional hashtags are also trending. You might come across a few of them on Instagram. Remember, each of them contains its own meaning and context. For now, we have explained a few of them and their significance.
Different Types of NFSs
Here are a few of them:
Need For Speed
NFS – Need For Speed: This is one of the most popular acronyms with 2007435 public posts. It is utilized in high-speed racing and adrenaline-pumping action-related posts/content. In simple terms, all car racing enthusiast includes this in captions and hashtags.
No Filter Sky
This hashtag refers to a picture or videos of skies captured in valid geographical locations and seasons without any filters or edits applied. Showcased the natural and unaltered beauty of the sky either short and airplane or mountain whatsoever. It has over 106840 public posts on Instagram.
No Filter Selfie
This was trending amongst youth or people with flaws are coming forward to accept the #NoFilterSelfie challenge. On Instagram, this hashtag includes 54027 public posts of people sharing their unfiltered selfies and groupies.
No Filter Sunset
#NoFilterSunset is similar to "No Filter Sky" which refers to a photograph of a sunset without any filters. It reassembles the camera filter like the "Golden Hour". Using this NFS people believe to display the authentic colors and magnificence of the setting sun. This NFS is trending with 43396 posts.
Not Feeling Social
#NotFeelingSocial is used by people who don't feel like socializing. If you come across any post including #NotFeelingSocial, consider that the person is trying to convey he/she is not willing to engage in social activities.
New Fashion Style
The next NFS with 15198 public posts, falls under the category of fashion. New Fashion Style is included to represent recent or innovative fashion trends. This NFS also covered or can be applied with posts related to modeling, Runway photoshoot, fashion designs, and sketches.
Not For Sharing
People with sophisticated and conservative mindsets include or add this NFS to their posts. With this, they convey that something is not meant to be shared with anyone. More often, it can be used to inform the followers and restrict them from sharing any sort of private information or possessions. This NFS has 12858 public posts on Instagram.
No Funny Stuff / No funny sh*t
This NFS is used to indicate or express the seriousness of something. Furthermore, people add this hashtag to request someone to refrain from joking or being funny in certain circumstances.
To Wrap Up
Now that you are well-aware of the meaning and types of NFS trending on Instagram. Now you can also navigate through with a deeper understanding of NFS meaning in Instagram. So, carry on appreciating posts with different NFSs and continue exploring the social landscape.