How To Write A Reminder Email To Get Best Results?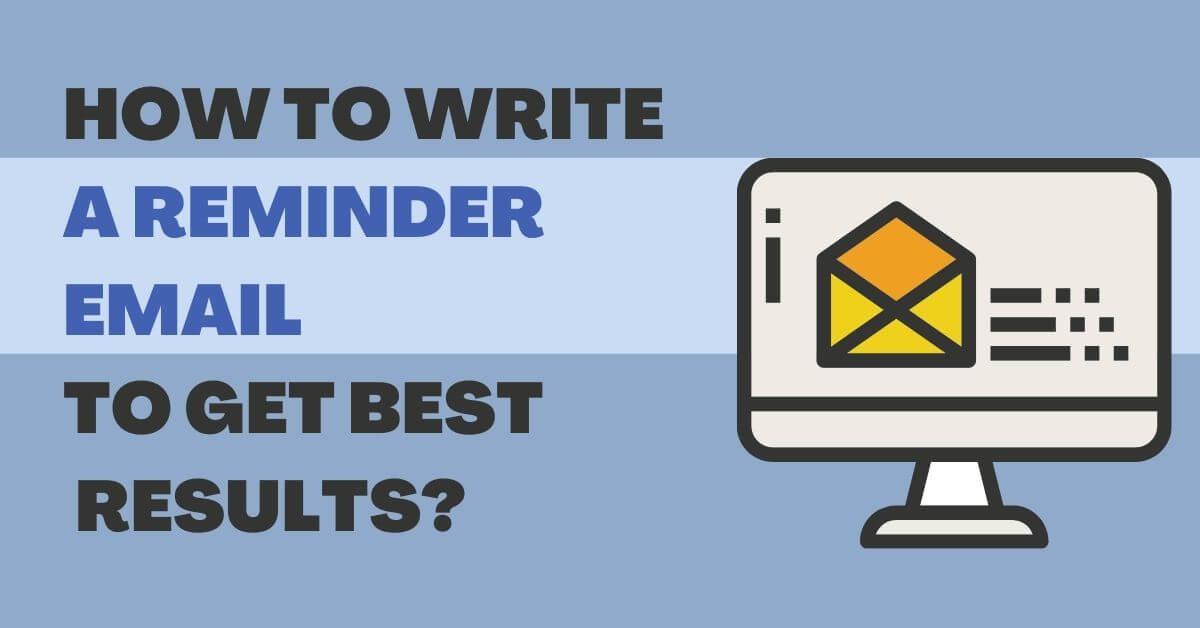 A reminder email is an essential part of business communication and must be on the top of the list of marketing strategies. When crafted the right way, a reminder email can fetch you great results. Not only will it get you an affirmative response, but it will also help you build a long-lasting relationship with potential customers.
You have to keep some points in mind while writing reminder emails and follow a few guidelines while sending them.
Different Reasons For Sending A Reminder Email
Before we head to finding out how to write a reminder email, you should know the different purposes of sending it,
1. To remind prospects about upcoming milestones.
2. To get customer testimonials and feedback
3. To inform customers about new developments.
4. To draw the attention of prospects to events and upcoming offers.
5. To seek opportunities to upsell.
How To Write A Reminder Email?
When you are writing a reminder email, you must focus on each element of it. Following is what you must try to pay attention to,
1. Choose your subject line carefully
The fate of your email is in the hands of the subject line. After all, it is the first thing that recipients see. When the subject line is attractive, you can expect more email opens. There are several ways to grab the recipient's attention. Use phrases like 'Gentle Reminder' and 'Response needed'. You can also create a sense of urgency by saying things like 'Offer ends in 1 hour'. This FOMO tactic works most often.
2. Use the right tone
The tone of your reminder email depends on the industry you are in and your target audience. If you are sending emails to the younger generation, it is better to use a casual tone to resonate well with them. On the contrary, if you are addressing the CEO or managing director of a company, you have to be a little formal. Set the tone of the email right from the greeting.
3. Focus on the email body
After you are done with greeting the recipient, you have to shift focus to the email body.
It is better to divide the message into two parts – the reminder and the call to action.
In the first part of the email body, come straight to the point. Remind the recipient about the issues for which you reached out to them in clear and short sentences. Also, ensure that the message is easy to understand.
In the second part, you can add the CTA or Call to action button or link so that recipients are aware of what they should do next. Not having a clear CTA can confuse the recipient. However, don't add more than one CTA in an email.
4. Finishing off appropriately
After you have finished writing the message, you can thank the recipient for spending their valuable time reading the email. Sign off with your name so that the recipient knows that it is coming from a human and not a robot. Also, having a clear email closing and using a professional-looking email signature will make you look more trustworthy in the eyes of the recipient.
Also Check: This is a free email marketing tool
Best Practices To Send A Reminder Email
To send a reminder email, you have to follow specific guidelines to enjoy a higher response rate. Find them below.


1. Always reply in the same email thread
As people get many emails every day, it gets challenging to keep track of each of them. That holds good for your recipients too. Sending an email in a new thread can therefore make it difficult for them to find your email. It will be a lot easier for them when you reply in the same email thread.
Apart from making your sales outreach emails lesser in number, the recipient would also know the context as they can look at the previous emails without moving back and forth. It makes it easy to move ahead with the conversation, and there is a lesser likelihood of missing out on something important.
Choosing to send your reminder email in the same email thread will increase your chances of getting a reply from the recipient, as your email will seem important.
Also Check: Temp Mail
2. Keep the message short and sweet.
You have to try your best in keeping the message as concise as possible because the recipient may find such emails easy to read. You can add a greeting in the email to make it look real. Keep the tone of the email friendly and non-intrusive. Try to convey as much as you can in a few lines. Remember to value the time of the recipient who may not have all day to read lengthy paragraphs.
3. Add a CTA
While you are sending a gentle reminder, there is a chance of engaging the recipient as well. As already mentioned above, adding a simple CTA or call-to-action in your reminder email will tell the recipient what they should do next. It will help them understand what you expect them to do, which removes the suspense.
4. Send it at the right time.
When you send an email is as important as what is in an email. The reminder email must serve its purpose. It is OK to send a late payment reminder one day after the lapse of a due date. Waiting for too long to send a reminder email will be of no use. You have to remind a person to do something on time.
5. Use the opportunity to market your product.
You can make the most of your reminder email by adding images of your product or service along with their links. You can also promote the latest offers. By doing so, the recipient may get interested in your product or service. However, you have to be careful with this tactic and use it only when it seems relevant.
The Final Takeaway
Reminder emails are essential when you want to build long-lasting relationships with prospects. Though you may send them for different purposes, you have to maintain a friendly and affirmative tone throughout. You can write effective reminder emails by following the tips and guidelines mentioned above. They will help you get affirmative responses from prospects and help in boosting sales.