How to Wear Huarache Men's Sandals: Best Styling Tips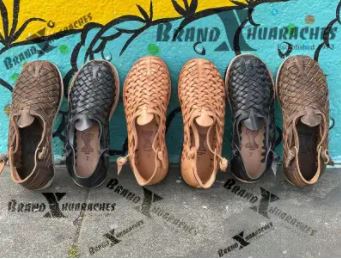 Lately, Mexican huarache shoes have become a massive hit among men. Men of all ages have started including these fashionable sandals as part of their daily wardrobe. Huaraches have a rich history, dating back centuries. Today, they have become fashionable summer footwear for stylish men.
If you're looking to add a pair of huarache sandals to your footwear collection, then you've come to the right place. In this post, we share the best huarache styling tips for men.
Rule 1: Don't Pair Them with Socks
Mexican huaraches have a distinct woven leather body that clings snugly to your feet. They are versatile and comfortable and are designed to be worn barefoot. Never pair them with socks, as that is a major fashion faux pas.
Rule 2: Perfect with Breezy Linen Fabric
Linen is the perfect fabric for summer. It's lightweight, and the microfibers let in airflow, allowing your skin to breathe. Like linen, Mexican huarache shoes also allow airflow, keeping your feet cool even when the temperature rises. Pairing huarache sandals with linen button-down shirts and trousers gives off that sophisticated, Italian summer vibes while keeping yourself fresh and chic.
Rule 3: Pair Them with a Fedora
The combination of huaraches and fedora hats is a match made in fashion heaven. Fedoras evoke strong opinions, and some hate them, while others adore them. However, they are a versatile and staple accessory in men's fashion. Pair a stylish men's huarache with a classic fedora for a dapper and suave look. Pair a medium-sized, neutral-tone fedora with a huarache of a similar shade for an understated but elegant look straight out of Mad Men.
Rule No. 4: Keep It Casual with a Printed Shirt
Floral printed shirts are an excellent way to add color and patterns to your wardrobe. Pair a printed shirt with jeans, trousers, or shorts, and don your favorite huarache sandals to complete the relaxed, islander look. This outfit is fun and playful for weekend outings or while on vacation.
Rule No. 5: You Can Never Go Wrong with a Classic White Button Down
A white button-down is a must-have fashion item in all men's wardrobes. Depending on the occasion, you can dress the white shirt up or down. Pairing it with another fashion classic—the huaraches Mexicanos—is perfect for relaxed lunches, hanging around the pool, or a night out with your friends.
Step out of your comfort zone and play around with huarache sandals and try to incorporate them with your daily outfits. Even if they are not your usual fashion accessory, they can be great for the warmer months. We're sure the comfort and convenience of these shoes will win you over, and you'll reach for them more and more.