Content Marketing Tools You Need to Use This Year!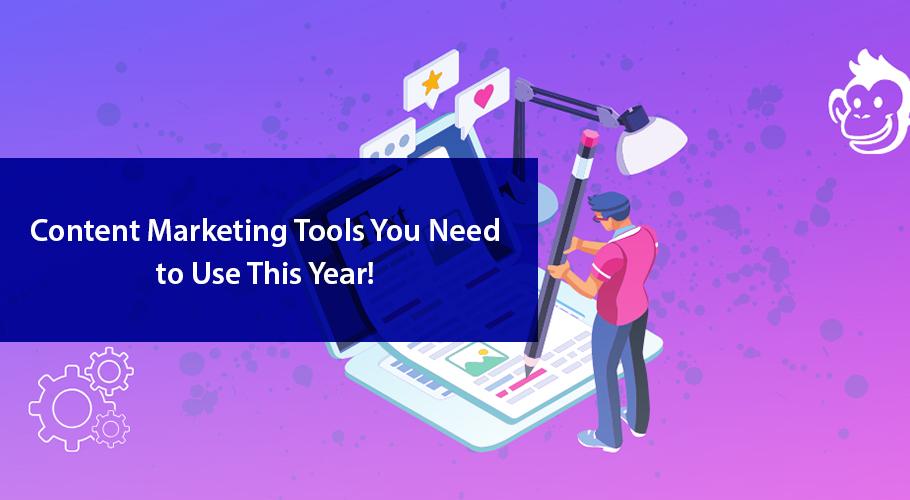 Content marketing is all the rage right now in 2021. Everyone's trying to find new ways to break into the market, especially through content, so the hunt for new tools and strategies to boost content marketing skills is always on. Content marketers believe in integrating compatible strategies with the right tools to make a difference. 
The variety of content marketing tools is astonishing. The price of the tools is completely dependent on the features they have. Some marketing tools are designed to give ideas for your next brand promotion while some help boost sales. You can download and install these tools with a super-reliable internet service like the new AT&T service and work your magic!
Here are some of the best content marketing tools you need to use to promote your content the right way!
SimilarWeb
SimilarWeb is one of those free content marketing tools that can help you get started in the marketing industry. This tool will help you accurately analyze your competition, so you know who you're up against. With SimilarWeb you can easily work out what your next big marketing strategy should be to get ahead in the competition. SimilarWeb can also track what keywords your competitor's users searched up the most.
A free trial of this tool gives you analytical data of your competitors' traffic and app for 3 months. For more data, you can upgrade to a premium or custom package. If you're new to the competition, then signing up with SimilarWeb is the best decision you'll make. This tool is great for starting out as it helps you understand what your competitors offer and what you should offer!
Digimind

Every brand has some sort of social media presence, and if yours doesn't, it's time to establish one right now. Social media presence helps you become more involved with your customers and potential leads. Once your online presence is established, the next thing to do is keep track of your social media activity through analytical data.
Digimind, a social media analytics platform, is one of the best software to use for this purpose. Digimind helps businesses understand and monitor data and keywords related to their brand. The tool also monitors the performance of content shared on different social media accounts of the brand. So, when it comes to optimizing social media content and strategy, Digimind is the perfect pick.
WordPress

Most content marketers market their content through blogs and articles. It's important to use the right tools for such forms and this is where WordPress comes in. WordPress is an amazing content marketing tool that can help you create a blog and a website within minutes! This is a free tool and you can upgrade it for a premium plan, which doesn't include a WordPress domain and has unlimited storage. You can also use WordPress to see your traffic data and content performance. What's more, WordPress even offers specialized plugins such as Simple Author Box using which you can credit content creators and bring them closer to your audience.
Loom

When it comes to optimizing video content, Loom is the best tool. Loom helps businesses create impactful videos to share with their target audience. Thousands of businesses use video content marketing and they're very effective in delivering the right message. As always, visuals always catch attention.
To make it effective, use Loom. Communication through video is now so much easier with the use of Loom. This content marketing tool offers a variety of different services such as GIF Preview, duplicating videos, and much more to bring your vision to life! As for the pricing, Loom has a free package as well as a 14-day free trial if you want to try out what Loom has to offer. It also offers a pro plan for those who want to be limitless with video sharing.
Google Analytics

Google has always been ahead of the game and it offers various apps and services dedicated to helping the content creators' community. One of those services is Google Analytics, which is popularly used by content marketers.
Google Analytics is a content marketing tool that provides you firsthand data and digital analytics on your content online. It's a very simple, yet powerful tool if you know what you're doing. It gives you in-depth insights and an overview of how your content is doing. Tweaking your content strategy according to Google Analytics is a great way to get ahead of your competition. It offers a great deal of data insight such as user engagement metrics, traffic, and more that help you come up with the best strategy for your next campaign. The best part about Google Analytics is that it's a free service offered by Google with no loss on the business' part.
HotJar

HotJar is a relatively popular tool among content marketers and for good reason too! HotJar is normally used to find what your customers are looking for. As an analytical tool, it offers you many different features that help you improve your content, such as identifying where your content needs improvement, how you can improve your marketing efforts, and a heat map that allows you to see which areas of your content your users are clicking and interested in!
HotJar is completely free with a premium and business plan varying on how many views you get every day.
Zapier

One tool that content marketers have to try out is Zapier. This tool can help you bring multiple different services into a single standalone service for a very smooth user experience. Zapier, being an integration tool, has many other applications for you to connect your content through and is relatively faster than any other similar tool available on the market. Zapier is a free tool but offers a few premium features, which you can test during a 14-day free trial!
Kraken

If you've ever used images as a marketing strategy, then you understand the dilemma of shortage of storage and how it makes your website load so much slower than it should. Even compressing your images through an online service will result in low-quality images, which are useless for brands. However, with Kraken, an image optimizer, you can easily compress images without facing any quality issues. This also speeds up the website loading time – so it's a win-win situation for you! Kraken helps you save storage and bandwidth. While it's not a free service it sure is worth the money!
Work smart, not hard!
Being a content marketer in today's time is more than just sharing snippets here and there. To make the most of your efforts, use these tools and design a good marketing strategy for the best results!