Benefits Of Social Media Integration On website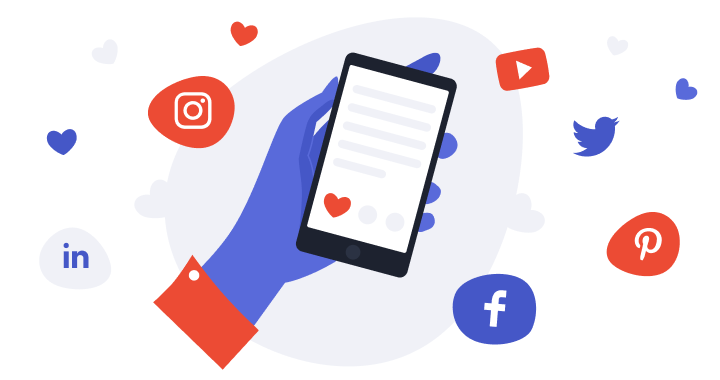 Social media is one of the most active parts of the internet. It caters to over 3.5 billion people. Social media on websites convey their ideas, thoughts, and views of the world. The massive user-count can help you a lot with reaching your consumers and target audiences.
Social media provides endless opportunities for brands. They can use social media to their advantage for both monetary and non-monetary benefits. All you have to do is social media integration on the website.
The social media content will be displayed with the help of a display wall. You can use it to promote user-generated content and brand-generated content together. You can do it with social media aggregator.
Benefits of social media integration on the website
Before you decide whether you want to give it a try or not, here are a few major benefits of integrating social media on your website:
1. Reach a wider audience with extended exposure:
When you motivate your users to go ahead and post about your brand on social media, the audience reach expands automatically. Once they post on social media, their followers get aware of your brand's presence.
These followers don't need to be amongst your targeted audience only; hence it reaches a wider audience with extended exposure.
2. Amplify your website's interaction and engagement capabilities:
Social media is known for its ability to be interactive and engaging. Similarly, it can help your website amplify your website's interaction and engagement capabilities with its dynamic nature.
When a brand does social media integration on their website, they provide their website visitors with an opportunity to engage with it.
3. Gain insights into consumers' social behavior:
You can track your user engagement if you do social media integration with your website. Those reports can help you study consumer's social behavior by their actions towards your social media wall.
Once you have an idea of what your consumers like and dislike, you can simply go ahead and work with your content accordingly.
4. Channelize traffic by integrating social media on the website and vice-versa:
Once you integrate social media on your website, you can easily drive your traffic from your social media handles to your website and vice versa.
Your website's social media wall is clickable and allows users to reach your social media handles with one click.
By sharing your website link on your social media handles, you can easily redirect your social media traffic to your website.
5. Enhance your website vibrancy through creative visual social content:
We all know that user-generated content or brand-generated content for social media are both very colorful and vibrant.
Integrating them to your website can enhance your website's vibrancy and make it attractive and engaging for the users.
The dynamic content also provides variety and new content now and then.
6. Build social proof by promoting User-generated content from social media:
Your social media wall will be consisting of user-generated content as well. When people use your branded hashtags and account handles with their social media posts, they generate social proof.
Proof that people are using that brand's products and enjoying them enough to go ahead and post about them.
This proof can work wonders to motivate website visitors to turn into customers.
7. Increase your conversions and sales:
When people look at other people using a certain product and enjoying it, they tend to buy that product too.
Also, social media walls can display your products in action and real-life with User-Generated Content. This can considerably help influence a user's purchasing decision.
With the wider reach and enhanced website engagement, you will definitely gain some new and loyal customers. Along with existing loyal customers, these customers will end up buying more, hence increased conversions and sales.
If you're in Hotel and Restaurant industry, then you should create restaurant flyers to promote your business. That helps you to reach out more customer. Use relevant hashtag relevant to the restaurant industry that will help you more to viral your content or reach out to more customers who are interested in your industry.
8. Deliver a superlative consumer experience:
Social media gives you a chance to go ahead and deliver a superlative consumer experience for your users.
By providing them with real-time and in action product videos and images, you enhance their shopping and judging experience.
The main issue that online sellers face is lack of touch; social media can help you manage that more efficiently and effectively.
9. Build brand image & reputation through communications:
Social media integration on the website gives your users and visitors the impression that you're prioritizing users and their experience with the brand. This can help you build your brand image and reputation for being a people's brand.
The social proof generated by users' help also signifies how much people love the products and the brand. This social proof helps to build brand trust and reliability, eventually ending up building a reputation.
Over To You
With the increasing competition day by day, using social media integration can help you to be a step ahead.
We have already mentioned so many benefits you get by simply using social media to your advantage.
Not using it might not make much difference to where you are right now, but using it can help to take your brand a level ahead.
You can give consumers what they look for in a brand with minimal efforts and investment.
So what are you still waiting for? Go ahead and start integrating your social media with your website already.
Also Read – Virtual Events Social Wall